After install the plugin you just need to go through a simple setup process. Please find our
setup guide here
. You also can take a look at the
instruction video
for more help. After finishing the simple setup process our extension portal will be ready to sync your data in no time.
"
Note
: This extension only support syncing one Xero organization with one single Zoho account."
Q7. Does it sync Xero payments?
Yes, it does the sync. Each application has its own set of logic. Once an invoice has been synced from Zoho CRM to Xero it follows the Invoice Status.

| | |
| --- | --- |
| XERO | COMMENT |
| AWAITING PAYMENT | In Xero, Client approved invoice status - Cant sync from Zoho anymore as Xero locks it |
| AWAITING APPROVAL | Can change in Zoho |
| PARTIAL PAYMENT | Can't change in Zoho CRM as Xero locks it |
| PAID | Can't change in Zoho CRM as Xero locks it |

In CRM you can create a view which will show what has been paid, not paid, partially paid.

Q8.

How does the plugin work - where is my data stored for the validation?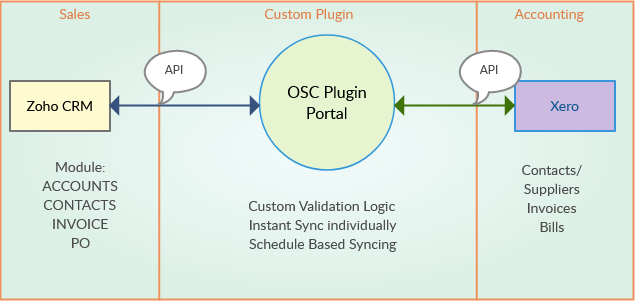 We use a data centre based in Australia for the plugin portal. All data is only stored temporarily in the plugin portal during the sync and validation process. This data is deleted after 30 days. The data is stored to check and validate last modified and updated information between the applications, and to allows the user to sync back in the case of any error.
Q9. What is the difference between Items and Products?



Q10. What is the difference between Item-Based and Service-Based Invoices?



Q11. How can I sync my data?



Q12. How often does it sync?



You can sync it anytime subject to Zoho API usage limit.

You can setup the auto sync schedule as per your requirements, maximum 10 times per day.

Q13. How Far Back can I Sync?



Q14. How long it takes to perform a sync action?



Q15. Can I perform the sync automatically?



Q16. How can I confirm if the sync is successful or not?



Q17. Why do we need to provide Xero access?



Firstly, This plugin does require additional setup aside from the initial installation. You can do the setup by your own by following our
Setup guide
or
video
.
Secondly, If you are having any issue to finalize the setup and want us to do the additional setup for you, we need to access to your Xero account. Our plugin relies on having a "Advisor level User" ie,
developer@oscillosoft.com.au
within your organization to pass information back and forth between Xero and Zoho. The User access is combined with your Zoho Admin access to create a private app to enable the synchronization between the two systems.
In second case, you can not delete the advisor invitation after finishing the setup. If you delete the advisor user the plugin will stop working.
Q18. What kind of user access should I provide?
For us to correctly setup your Zoho2Xero plugin we require the following:

Xero User access: Advisor level permission

Zoho User access: Admin level permission

This user access is only required for the setup process.

Continuing to provide us access allows us to more easily help during issues

Q19. How is my data being handled?

The information is not directly sent from one system to another. The data is processed in our secure cloud servers in order to maintain a proper syncing process. Oscillosoft understand the importance of your data and will only hold your information for 30 days before it is automatically deleted.
Q20. Why does Oscillosoft need to hold my data ?

The information on our servers allows Oscillosoft to monitor for any changes and ensure we know when to update your data. It is also used to provide you with a sync log in your integration portal so you know exactly what you have synced and when.

This information will only be kept for 30 days and automatically deleted after then.

Q21.
Can we sync data using multiple Xero account
?